Healthy Recipes
Healthy Recipes (Cook Healthy & Eat Healthy)
Best Cooks are the ones who can cook healthy and without changing natural taste and color of the main ingredients. They manage with natural tastes without using more than allowable limits. That means cook is the one who can always take care of both nutrition and taste.
Major threats for health come from use of saturated fats, refined oils, 5 whites Sugar, Maida, white salt, white rice(polished grains) & Milk. So it is always best practice in cooking to use them in as less quantities as possible. General principles for healthy and testy recipes are:
1. Use less temperature for boiling vegetables to avoid loss of nutrition and natural taste.
2. Do not boil vegetables in water (as water boiling point is high) and do not fry them in oil.
3. Steaming vegetables makes your cooking quicker and tasty..
4. Always keep lid closed while boiling (use stainless steal vessels)
5. Always use whole meal raw grains rather than polished or refined items. (eg. Instead of white rice you can go for brown rice or millet. Instead of white wheat use whole meal /brown wheat).
6. Use fresh/raw ingredients rather than processed and preserved once.
7. Please note that salt is not mentioned in many recipes as required required sodium / salts are managed from natural ingredients like vegetables.
But if you want, just use as little as possible rock salt. Other option is you can use lemon to compensate taste.
Manavata team has come up with an excellent set of healthy recipes, which will completely change your lifestyle for the better future of current society. Some of the recipes are as follows:
Index:
Fresh bean sprouts, Sprouts salad
Millet Recipes:
Millet Kichidi
Foxtail Payasam/kheer
Little Millet Coconut
Kodo millet idli
Ragi Porridge
Other Recipes:
Mix veg curry, Sambar
Crushed wheat Upma
Salads & Raita
Chutney recipes
Make yourself Healthy Milk, Curd/Yogurt (Vegan)
Recipes Details:
Sprouts are rich in digestible energy, bio­ available vitamins, minerals, amino acids, proteins and enzymes.
Ingredients:
Sprouts can be prepared with any grains ideally moong, alfalfa, red gram, chickpeas, wheat, etc.

Process:
1. Wash them with fresh water twice and soak in water (250 C) for 12 hours.
2. Drain water and keep them in clean cloth or sprouting box for a day at room temperature
3. Next day you can consume sprouts.
Eat raw sprouts without adding any cooked food but dry fruits or dates can be included.
Sprout Salad:
Different types of bean sprouts can be mixed together with cucumber and tomato pieces, so that they can be chewed easily. Add one spoon of lemon juice.
Carrot Coconut Salad:
Salad forms a necessary part of the meal.

Ingredients:
Fresh Coconut 1 (choose one with 3/4th of water in it)
Carrots 4
Process:
Grate coconut and carrots. Mix them. Consume within 2 hours. Serves 3
Beetroot Salad:
A very healthy salad, as beetroot enhances the hemoglobin percentage.
Ingredients:
Beetroot 2(grated), Pomegranate 1, Honey ½ cup, Elaichi Powder 1 Pinch
Process:
Mix grated beetroot, pomegranate(or apple or Banana), honey and elaichi powder in a vessel.Decorate with pomegranate seeds in any desired shape.
Note: If pomegranate seeds are not available, you can replace apple or banana instead.
Ragi Porridge:
Nice recipe for breakfast

Ingredients:
Ragi floor 50 grams, Oats 100 grams, Honey 2 spoons, Elaichi Powder 1 Pinch, nuts: 50 grams, dry fruits:
10 grams, 300 ml milk or water
Process:
mix oats and nuts in milk or water and boil, mix Ragi powder in half cup of water separately and mix this oats after 5 min of boil in sim, boil another 5 min and then switch off. add cardamom & keep lid closed. after cool down, serve for 2 with honey.
Note: If Oats or Ragi not available at some places, one of the ingredients can be used.
Millet Khichdi:
Ingredients
Onion – 1
Green chilli -1-2 slit
Ginger – 1 inch piece finely chopped
Foxtail millet/ thinai – 1/2 cup
Moong dal split yellow variety – 1 tbsp (optional)

Turmeric powder – a pinch
Oil- 1/4 tsp
Salt as needed
Carrot -1 medium size
Beans -3-4
Drumstick leaves – fistful
For the seasoning
Oil – 1 tbsp
Mustard seeds – 1/2 tsp
Urad dal – 1/2 tsp
Cumin seeds -1/2 tsp(optional)
Whole black pepper – 2-3
Red chilli – 1(optional)
Hing – a pinch(optional)
Curry leaves – few
Procedure:
Chop all the vegetable into medium sized pieces.
Wash and soak millets along with moong dal in 1 1/2 cup of hot water for 2 -2 1/2 hours.
Heat oil in a pressure pan, add mustard seeds, when it splutters, add urad dal, cumin seeds, red chillies, hing, black pepper and curry leaves.
Add chopped onions, ginger, green chillies and saute until onions turn pink.
Then add all the vegetables, drumstick leaves, turmeric powder, salt needed and saute for 2-3 minutes.
Add the soaked millet along with the water. Check for salt by tasting the water.
Close the cooker and cook for 2 whistles on medium flame, then simmer for another 5 minutes and switch it off. Once the pressure subsides, open the cooker, add a tsp of ghee and mix the khichadi well.
—————————————
Millet
Milk (optional)
2-3 tpsps Jaggery (adjust as per taste preference)

1-2 tbsps Sugar (adjust as per taste preference)

2

tbsps

Cashews Raisins & each
Procedure:
Combine millet with 2 cups of water and pressure cook on medium-low flame for 4-6 whistles. Millet can be cooked in a saucepan until all the water is absorbed and the millet is cooked thoroughly, this will take about 25-30 minutes. You might have to add more water.
In the meantime, ghee 2tbsp ghee in a small pan and fry the nuts & raisins until golden. Remove from heat and set aside.
Once the pressure subsides on the cooker, open the lid and add the milk and ground cardamom. Simmer for 2-3 minutes. Add more milk if you like thinner Payasam.
Turn off the heat and add the sweeteners. Mix well, add the fried nuts and raisins; let sit for 5-10 minutes before serving.
—————————————–
Little Millet Coconut rice:
Little Millet 200 grams
Coconut 1 (ripen fresh)
Groundnut 20grams
Cashew or any other nuts 10 grams
Pepper, Jira, Coriander, Curry leaves, Green Chilli
——————————————————–
Brown top Millet Veg soup:
Browntop (Andu korralu) Millet 200 grams
Vegetables: Carrot, peas, beans, butternut or pampkin or any other
Pepper, Jira, Coriander, Curry leaves, Green Chilli, lemon
Procedure:
Add 3 times water in Millet and boil in low flame/sim. steam vegetables slightly,
Add vegetables, pepper powder to millet when millet is almost cooked (80%), keep in low flame some more time.
Seasoning: can be done with curry leaves, Jira and other ingredients and add them to soup after completion. some dry roasted nuts power can be added for nutrition and taste.
lemon can be added during serving.
Kodo millet Idly:
Ingredients:
Kodo millet…3 cups
black gram with skin….1cup
rock salt.. 2 pinches
Method:
Wash kodo millet for 2 times and blend in a mixie jar like rava with water and soak for 6to8 hours.Soak black gram for 2,3 hours.Grind this to a smooth batter and mix with the kodo millet rava.Ferment this for 7,8 hours add salt to it and pour the batter into idli plates and steam.Kodo millet idly is ready. Serve this with hot sambar.
Note-
Use soaked millets water for grinding black gram.
Do not waste siridhanyas soaked water.
This method can be used for any of the siridhanya.
Crushed Wheat Upma:
This recipe takes 15­20 min in preparation. It is simple and very nutritious.
Bulgur or crushed wheat ­ 100grams

Carrots ­ 2 nos.
Curry leaves ­ 10 nos.
Coriander leaves ­10 stems
Beans (Runner/String less/French) ­ 10 nos.
Tomato ­ 2 nos.
Green chilli ­ 2 nos.
green peas ­10grams(optional) onion or any other veg ­ 1 each
Peanuts ­ 20 nos.
Cashews ­ 8­-10 nos.
Pepper ­ 5 gm
Turmeric ­ 2 pinch
Lemon ­ 2 no
Process:
Wash and cut all the vegetables in small pieces. Put the water in a vessel, cover the pot, and bring to a boil. When it starts bubbling, add crushed / Bulgur wheat and stir it for a minute then add all other ingredients together, stir it again and cover the vessel. Heat the mixture in low temperature for 8 to 10 min, or until wheat becomes soft. Keep the lid closed for 10 minutes after turning off the gas. Add coriander leaves at the end. Lemon can be served as pieces to sprinkle on Upma at the time of eating. Serves 3 to 4.
Mixed Beans and Green Leaves Curry
This is a simple protein ­rich dish. Total preparation time is 30 mins. Serves 4.
Pre-­preparation: wash and soak the selected beans from the list below overnight.

Ingredients:
Green chilli 2
Carrot 2
Coriander powder 5g
Pepper 5 g
Turmeric Pinch
Spinach, sweeten cabbage, curry leaves­ 150g
Take any 5 or more beans (50grams each) from the list below:
Black Eye Beans, Soya Beans, Rajma, Moong beans, Chick Peas, Butter Beans, Red Lentils, Black gram, Green gram
Process:
Wash the selected beans (from the list above) and soak them overnight (12 hours) in a vessel. Boil all the beans in a cooker for 3 whistles. In a separate vessel, pour 50 ml water and add spinach, salt, turmeric, coriander powder and boil them for 5 min on a low flame. Add the boiled beans in the mixture stir it for 2 min on a low flame. Switch off the gas and cover the vessel for sometime.
Continental Sambhar / Soup
Pre-paration time: 20­-25 min.
Toor dhal or Red Lentils 100 gm

Mung dal 25 gm
Onion (optional) 2 nos.
Sweet potatoes (optional) 1 nos.
Black eye beans (optional) 10 gm
Barley / Wheat (optional) 10 gm
Tomato 2 nos.
Carrot 2 nos.
Radish /drum stick /Okra / green peas (based availability)
Bottle guard or Pumpkin or Butternut squash: 200 grams
Seasoning:
Curry leaves & Coriander leaves
Black Pepper powder 5 gm
Coriander powder 5 gm
Turmeric 2 pinch
Ginger 10 gm / Cumin seeds: 5 gm, Lemon 1
Process
Wash dhal(s) and soak them in warm water for 30 min. Boil them together in slow temperature. Wash all the vegetables, cut them in small pieces. Steam Boil the cut vegetables in a separate vessel for 10 min on a low flame. roast (dry or with little water) seasoning items for 5 min and add boiled dhal and steamed vegetables. Mix all the ingredients thoroughly and heat the mixture for another 5 min on low flame. you can squeeze fresh lemon during serving. Serves 3 to 4.
Khichdi:
Pre-paration time: 20-­25 min.
Brown Rice ­ 100 grams

Mung dal / red lentils ­ 100 grams
Pepper seeds ­ 10 nos.
Tomato ­ 2 nos.
Carrot ­ 2 nos.
Beans ­10 nos.
Sweet potatoes (optional) ­ 1 nos.
Curry leaves ­ 15 nos.
Coriander powder ­ 5 gm
Turmeric ­ 2 pinch
Lemon ­ nos.
Process
Wash rice and dal. Cut all the vegetables in small pieces. Add pepper seeds, cut vegetables and 2 ½ portions of water in rice and dal. Cook the mixture for 3 whistles in a cooker. Serves 3 to 4
Steamed vegetables curry
Mix of fresh seasonal vegetables of different combinations can give you variety of choice, taste along with nutrition.Cut vegetables into big pieces (for children small) and steam them for 5 to 10min in low flame (just add only 10ml water for vapors). Make sure to not to boil too much soft, so that you will get more taste and crispy flavor.

Try one of the different flavors for toppings:
1. Squeeze of lemon or lime juice, together with a sprinkling of black pepper is enough. Simple, yet fresh flavors.
2. Add half a cup fresh milk and black pepper powder
3. Cumin seeds, coriander leaves and Mint leaves
4. Mix nuts powder (make yourself by dry roasting nuts like peanuts, cashew, almonds, Vurud dhal, sesame seeds etc) and bit of milk
Serving:
Nice to serve with with any of these: Roti / pulka / Chapati / Bulgar wheat
Steamed Bitter guard / Karela curry
Preparation time: 5 min.

Karela 3 nos.
Pepper ­ 5 gm
Green chilli 2 nos
Jaggery ­ 20 grams (optional)
Process:
Cut karela, green chilli into small pieces. Steam boil them for 5 mins on a low flame add salt, pepper, turmeric and jaggery. Stir the mixture properly, cover the vessel and steam boil for another 2 mins.
Serves 2.
Payasam / Kheer:
Preparation time: 20-­25 min.
Water 300 ml (optional)

Jagary 50 gm
Cashew 10 nos.
Raisins 20 nos.
Barley 10 gm
Foxtail millet or little millet or brown Rice 50 gm
Sagu 10 gm (optional)
Cardamom 4 nos.
Almonds (optional) 10 nos.
Process:
Wash and soak millet/rice, barley and sagu in 300ml warm water for 10­15 min. Boil this mix in low flame for around 15 min. cut cashews and almonds in small pieces and to above mix while boiling. Meanwhile, crush jaggary and cardamom separately.Add crushed jaggery and heat the mixture for another 3 min on a low flame. Switch off the gas, add the crushed cardamom in the prepared kheer, mix it and cover the vessel for sometime. (not to use milk if you are using jaggary)Can be served hot or cold. Consume within 12 hours.
Serves 4.
Spinach Raita:
Ingredients:
Spinach ­ 500 gms(Washed thoroughly without any sand)(add salt to it for 15 minutes, so that spinach can be cleaned easily)
Spring Onions 1 bunch
Curd 1 cup(required)
Process: Chop the spinach leaves very finely. Also chop spring onions very finely. Mix both of them along with the curd and add 1 pinch of chat masala. Add 1 pinch of salt if required or else avoid.
Very yummy raita!!!
Cucumber Raita:
Cucumber500gms(grated)
Curd required
Pomegranate seeds­ 1 cup
Process: Add all of the above and mix well. Very nice raita.
Mixed Vegetable Salad:
Salad Is a form healthy diet

Ingredients:
Carrot 2 (Grated)
Peas 1 cup
Cucumber ­ 200 Grms
Potato 2 (Boiled)
Curd­ 1 cup
Chat masala Powder
Process:
Grate the carrots, Slice the cucumber,boil the potato and mix all of them in a vessel. Add curd to the mixture. Add 2 pinch of chaat masala and one pinch of salt(only for those who cannot have raw vegetable with out salt). For the added taste add green chilies.This is very tasty and healthy diet. Curd adds a creamy texture with which the vegetables can be chewed easily.
Decorate with green coriander.
Carrot Salad:
Serves 4
Preparation time: 15 mins
Making time: 5 mins
Lots of Protein, fiber and Vitamin A. Can be appetizer or a snack
Ingredients:

Fresh Carrots 4 Peeled and Grated
Ground nut 150 gms soaked over night, steam cooked and let to cool.
Pepper/Salt to suite individual taste
Lime Juice 2 tsp or to taste.
Coriander leaves ­1 tbsp to garnish
Mix everything and garnish with Coriander leaves and serve.
Vegetable Salad (can be used as Curry with Roti)
Ingredients
Carrots ­­­­­­­­­­­­­­­­­­­­­­ 2
Beetroot ­­­­­­­­­­­­­­­­­­­­­ 1
Tomato ­­­­­­­­­­­­­­­­­­­­­­ 1

Green chillies ­­­­­­­­­­­­­­ 2
Peppers ­­­­­­­­­­­­­­­­­­­­­ 1 (optional)
Nuts ­­­­­­­­­­­­­­­­­­­­­­­­­­ 2 spoons of soaked/dry roasted peanuts
Coriander leaves
Lemon ­­­­­­­­­­­­­­­­­­­­­­­­ 1/2
Onions ­­­­­­­­­­­­­­­­­­­­­­­ 1/2 (optional)
Mint leaves (optional)
Procedure:
1. Grate carrots and beetroot finely
2. Cut tomato, green chillies, peppers, onion, coriander leaves, mint leaves into small pieces
3. Mix all vegetables add nuts and lemon juice to it
4. Serve as it is or with chapathi/ Roti
Curd Raita:
Ingredients: Curd, chopped onion, tomatoes, carrot, green chili, coriander, grapes cut pieces, pomegranate seeds etc.
Procedure: Mix all ingredients and end with dry talimpu. Tastes good with pulkas and millets or rice. Good for summer also.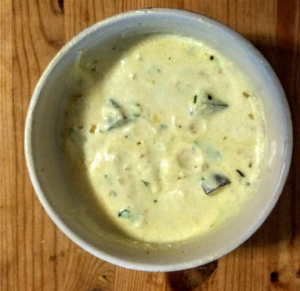 Make milk and Curd / Yogurt at home
Karuveppilai Podi-Curry Leaves Powder Recipe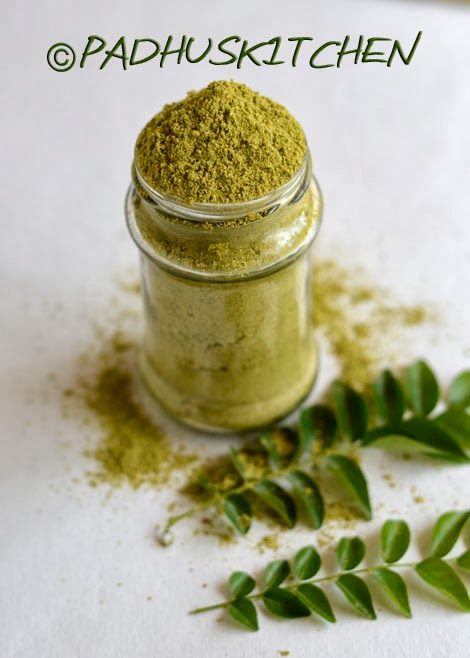 | Preparation Time | Cooking Time | Total Time |
| --- | --- | --- |
| 10 mins | 18 mins | 28 mins |
Karuveppilai podi-Curry leaves powder is made from fresh curry leaves and spices. It can be had with rice or with idli, dosa. These podis come handy when you run out of time or when you feel lazy to cook. It can be stored for a month and can be used when needed. Nothing can beat the flavor of fresh homemade curry leaves powder. Hot steamed rice topped with a tsp of ghee and curry leaves powder is heavenly.
Course: Podi Recipes, Side Dish
Cuisine: South Indian
Keyword: Curry leaves podi, curry leaves powder, karuveppilai podi
Ingredients
Ingredients needed
1 cup Fresh Curry leaves (very tightly/firmly packed)
2 tsp Whole black Pepper
2 tsp Cumin seeds/ jeera
2 tbsp Tur Dal
2 tbsp Urad dal
2 tbsp Bengal gram or channa Dal
3-4 Red Chillies or as needed
Salt needed
Instructions
Preparations
Wash curry leaves well, pat it with a towel to remove excess water and dry it well the shade.
Spread the washed curry leaves on a cloth and let it dry for 5-6 hours. There should not be any moisture in the curry leaves.
Method
Dry roast tur dal, urad dal, channa dal (kadalai paruppu) until dal turns golden brown.
Then dry roast pepper and jeera separately until you get a nice aroma.
Dry roast red chillies for a few minutes.
Dry roast curry leaves well. Do not burn it. (the leaves should break when you crush it with your fingers).
Dry grind the dal, pepper and jeera first. Then add curry leaves and grind everything together (slightly coarse) along with salt required.
Store it in an air tight container so that it does not loose its freshness.
Recipe Notes
Oil is not required for roasting